What Happens If My Will is Lost or Misplaced?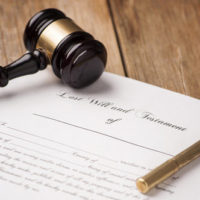 Although most of our important documents are now digital, wills remain surprisingly "analog." What we mean by this is that after a person dies, a Florida court typically needs to see an original, signed copy of a will that has been witnessed by at least two other people. A digital or photocopy is generally not acceptable.
"Establishing" a Missing Will
But what happens if your will is misplaced or lost after you die? Florida law does anticipate such situations. Under Section 733.207 of the Florida Statutes, an "interested person" may attempt to re-establish your will in the absence of the signed original document. This is often done by presenting the court with a photocopy of the will.
But of course, if you could just present a photocopy "no questions asked," then there would be no point to requiring the original document. So things are not quite that simple. The person offering the copy must prove the will is valid–i.e., that it reflected the intentions of the person who purportedly made it. One way to prove the will is to present the testimony of at least one "disinterested" witness. And if there was not even a copy of the will available, there must be at least two disinterested witnesses.
Beyond the witnesses, the person trying to establish the will must also prove to the probate court's satisfaction that the decedent–the person who died–did not actually intend to destroy or revoke the purported will. Indeed, according to Florida law, when an original will is "missing," it is presumed the decedent intentionally destroyed it. So if you present a photocopy of a will, the judge will ask, "How do you know the decedent did not intentionally destroy the original because she wanted to revoke the will?"
In some cases, this may be proved by presenting evidence the original will was known to exist after the decedent died. It is not uncommon for papers to be lost or misplaced in the process of cleaning out a deceased person's home. If that is the case, a judge may be more inclined to admit a photocopy.
Speak with a Florida Estate Planning Lawyer Today
Of course, if you have recently made a will yourself and are worried about such an "accident," you should take care to keep your will in a secure location that only your designated personal representative can access. Another option is to give the original will to your estate planning attorney for safekeeping. (You should generally not put a will in your safe deposit box, as it may be impossible for your personal representative to access it immediately after your death.)
Keeping your original will safe is important if you want to avoid any unnecessary delays in the probate of your future estate. An experienced Fort Myers wills and trusts attorney can offer you further advice on this and many related subjects. Call the Kuhn Law Firm, P.A., at 239-333-4529 to schedule a free consultation with a member of our estate planning team today.
Source:
flsenate.gov/Laws/Statutes/2018/733.207