Understanding Florida's Law Protecting Vulnerable Adults from Exploitation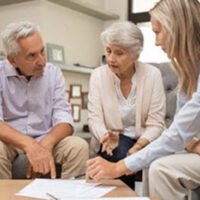 In 2018, the Florida legislature adopted a new law authorizing judges to issue an "injunction for protection against exploitation of a vulnerable adult." A "vulnerable adult" is a person over the age of 18 who is physically or mentally impaired in their ability to perform the daily activities of living, or otherwise cannot provide for their own care or protection. To "exploit" such a person may include acts such as depriving them of their money or other property, or intentionally or negligently failing to provide that person with necessary support and maintenance.
If the vulnerable adult, someone acting with their consent, or a legal guardian believes that a caregiver has committed exploitation, that person can file a petition with a Florida Circuit Court judge for an injunction against that caregiver. As with any judicial matter, the caregiver accused of exploitation has certain due process rights the court must respect. This means that even where there is evidence of exploitation, an injunction may be reversed if the trial judge did not follow proper procedures.
Judge Says One Thing Orally, Something Else in Writing
Indeed, this recently happened in a case before the Florida Fourth District Court of Appeal, Soldatich v. Jones. The petitioners in this case are the family members of a vulnerable adult. They filed a petition seeking an injunction against the vulnerable adult's caregiver, accusing her of exploitation.
A Martin County judge issued a temporary injunction ex parte–i.e., without giving the caregiver advanced notice–and later held a hearing on whether or not to issue a permanent injunction. At that hearing, the caregiver denied the exploitation allegations. She also said she "had not had contact with the vulnerable adult since the entry of the temporary injunction, and would not have further contact with the vulnerable adult."
At the conclusion of the hearing, the judge orally told the parties he would "issue this injunction," adding it was "by agreement" of the caregiver. The judge noted the caregiver did not admit to any exploitation, nor did the judge make any formal findings that exploitation occurred. However, in a subsequent written order, the judge included what was essentially boilerplate language from the statute that did make specific findings of exploitation.
The caregiver subsequently appealed to the Fourth District, which agreed the judge's actions were improper. Specifically, the written order making findings of exploitation were invalid because they did not "conform with the circuit court's oral pronouncements." In Florida, the basic rule is that a "trial court's oral pronouncement controls over its written order." Put another way, a judge cannot say one thing in open court and write down something contradictory. To do so violates the due process rights of the affected party, such as the caregiver was in this case.
Need to Know More About Laws Protecting Florida's Vulnerable Adults?
If you have additional questions about Florida's laws protecting vulnerable adults from exploitation and would like to speak with an experienced Fort Myers elder abuse attorney, contact the Kuhn Law Firm, P.A., at 239-333-4529 today to schedule a free confidential consultation.
Source:
scholar.google.com/scholar_case?case=1296737098934877777
https://www.kuhnlegal.com/is-medical-malpractice-a-form-of-elder-abuse-in-florida/