Judge: Blindness No Excuse for Not Understanding Trust Before Signing It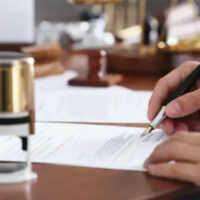 It normally goes without saying that you should never sign any legal document, particularly an estate planning instrument like a will or trust, without reading it first. But what if you are incapable of reading the document? For example, what about a person who is legally blind?
In such scenarios, it is critical that copies of the will or trust be provided in an accessible manner prior to their execution. In simplest terms, someone needs to read the document to the individual beforehand. Ideally, this person is a qualified estate planning lawyer hired by the individual to prepare their will or trust as a fiduciary.
Anytime you allow a non-fiduciary to prepare an estate plan on your behalf, there is always a risk that third party will try and take advantage of the situation. An ongoing lawsuit before a federal court here in Florida, Adderley v. Three Angels Broadcasting Network, Inc., illustrates what can go wrong in such situations.
The plaintiff in this case is a U.S. Army veteran who became legally blind after an incident that occurred while he was on active duty. According to his lawsuit, the plaintiff owns several hundred acres of undeveloped land in The Bahamas. As a member of the Seventh Day Adventist Church, the plaintiff wanted to leave a "small portion" of this property to the Church as part of his estate plan.
The defendants in this case allegedly offered to assist the plaintiff in preparing the necessary documents. The defendants retained an attorney to draft what is known as a charitable remainder unitrust. Basically, this is a type of irrevocable trust that provides an annuity for a non-charitable beneficiary (usually the person making the trust) during their lifetime, with the remainder going to a qualified charitable organization upon the beneficiary's death.
In this case, the plaintiff alleged that unbeknownst to him, the defendant named itself as the charitable remainder beneficiary rather than the Seventh Day Adventist Church. The plaintiff said he did not discover the truth until five years later, when he hired his own Florida-based attorney to review the documents. The plaintiff then filed his 28-count lawsuit in federal court, alleging various forms of fraud and misrepresentation.
Unfortunately, a federal judge was forced to dismiss several of these claims because the statute of limitations had expired. The judge said the mere fact that the plaintiff was legally blind did not justify the delay in bringing his lawsuit. Citing a prior ruling from a Florida appeals court, the judge said, "The burden is on the person who cannot read to know that he cannot read and if he desires to have an instrument read and explained to him to select a reliable person to do so before he signs it."
Speak with a Lee County, Florida, Wills & Trusts Lawyer Today
Even if you are not legally blind, you still need to carefully read and understand a will or trust before you sign it–especially in the case of an irrevocable trust that cannot be easily undone after the fact. If you need advice or assistance from a qualified Fort Myers estate planning attorney, contact the Kuhn Law Firm, P.A., at 239-333-4529 today to schedule a free estate planning consultation.
Source:
scholar.google.com/scholar_case?case=1925720752344985157
https://www.kuhnlegal.com/can-a-trustee-go-to-jail-over-their-handling-of-a-trust/