How Should I Store My Florida Estate Planning Documents?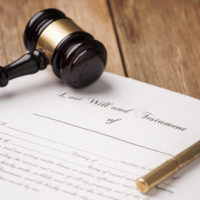 Preparing a Florida will or trust, power of attorney, and other related documents is an important first step in the estate planning process. The next step is to make sure your documents are properly stored. After all, if your will is accidentally lost or destroyed–and thus cannot be located after your death–it has little value to the Florida probate courts or your family. In order to ensure your wishes are carried out, then, it is critical to not only secure your Florida estate planning documents. You also need to make sure a family member or other trusted person can promptly locate and retrieve your original documents.
What Documents Do I Need to Protect?
Each Florida estate plan is unique. Not everyone executes the same documents. But here are some of the basic Florida estate planning documents that you might have:
A last will and testament;
A revocable living trust;
A general durable power of attorney for financial affairs;
A limited power of attorney for certain matters, such as buying or selling real estate;
Living will and advance health care directive;
Designation of health care surrogate; and
If you have minor children, a nomination of a guardian to care for them.
In addition to these estate planning forms, you should also locate and organize certain documents related to your property, such as:
The deeds to your home and all other real property you own in Florida, as well as any related mortgage papers;
The titles to your car and any other motor vehicles (including boats); and
Statements identifying your bank and brokerage accounts.
You should consider keeping all of these documents together in a single folder. Many people choose to keep their original Florida estate planning documents in a safe deposit box. While this will ensure your documents are secure, you need to be careful when opening the box. If you rent a safe deposit box as an individual, the bank or financial institution will seal it upon death and only release the contents to a court-appointed executor. But if the will naming the executor is in the safe deposit box, that can create a problem.
To avoid this, you can name a joint holder for the safe deposit box, or title it in the name of your living trust, in which case the successor trustee will have access. You can also forego the safe deposit box altogether and use a home safe, lock box, or locked file cabinet–ideally something that is fire- and waterproof. And while you always need to protect the original signed documents, especially your will, it is still a good idea to have digital backup copies on a local computer or network storage (i.e., "the cloud.")
Need Help From a Florida Estate Planning Attorney?
Whatever your storage method, it is equally important to make sure the right people have access to your estate planning documents once you die or become incapacitated. For example, make sure that the executor of your estate can access your will. You should also keep your Fort Myers estate planning attorney in the loop, especially if you want them to assist your executor in administering your estate. For additional advice on this or any other estate planning topic, contact the Kuhn Law Firm, P.A., today at 239-333-4329.