How Do I Dispose of Specific Items in My Florida Will?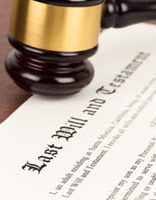 A common problem many people have when drafting a Florida will is deciding how to divide up individual items of personal property. We are not necessarily talking about high-value assets like automobiles or jewelry. We all keep certain items more for sentimental reasons than financial value. But does it make sense to individually list each of these items in your will, together with your designated beneficiary?
The Benefits of a Personal Property Memorandum
The truth is that listing large numbers of personal items in a will can be problematic, because if you ever decide to change even a single bequest you will need to execute a legal codicil–amendment–to the original will. This can be a significant time and expense, especially if you are the type of person who changes their mind a lot.
Some people opt for the opposite approach. They simply include language in their will telling their children or other family members to divide personal items among themselves. This can work out fine assuming all of the parties are able to reach an amicable agreement. On the other hand, you may just end up encouraging certain unscrupulous relatives to swipe a few items for themselves after your funeral without telling anyone.
Fortunately, Florida law does provide an intermediate option. You may create a "written list or statement" disposing of individual items that you did not dispose of in your will. This is sometimes known as a "personal property memorandum," and it affords you the ability to make your intentions known with respect to items of sentimental value without having to constantly amend your will.
Under Florida Statutes 732.515, a personal property memorandum must be signed by you and describe the items you wish to bequeath and their intended recipients "with reasonable certainty." You are free to revise or amend your list as often as you wish without affecting the validity of your underlying will. (And unlike a will, a personal property memorandum does not have to be witnessed.) However, your will should contain express language referring to the existence of the personal property memorandum.
You should also date the memorandum and any subsequent amendments or revisions. This way, in the event the personal representative or administrator of your estate locates multiple documents, it can be readily ascertained which is the most recent and therefore should prevail in the event of a conflict. The memorandum may be handwritten or typed, although the latter would likely be more legible. The final list should also be kept together with your original signed last will and testament.
Have a Question About Creating a Florida Will? We Can Help
Once again, if you do choose to write a personal property memorandum, be as specific as possible in describing your items and their intended recipients. After all, it does not help much to leave "my diamond ring to my sister" if you have two diamond rings and three sisters! And if you have any questions regarding the execution of your will or any related documents, contact the Fort Myers estate planning attorneys at the Kuhn Law Firm, P.A., at 239-333-4529.
Source:
leg.state.fl.us/Statutes/index.cfm?App_mode=Display_Statute&URL=0700-0799/0732/Sections/0732.515.html