Florida Supreme Court Clarifies When Presumption of Paternity May Be Challenged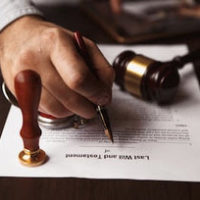 Florida probate law provides for the inheritance rights of children of a parent who dies without leaving a will–i.e., an "intestate estate." Florida law makes no distinction between children born in or out of wedlock. But with respect to the father's estate, the child's paternity must be established, either by court order or a signed acknowledgment made by the father during his lifetime.
Biological Father Allowed to "Rebut" Presumption Child Is Not His
A recent Florida Supreme Court decision, Simmonds v. Perkins, addresses another paternity-related issue: Can someone establish they are a child's father if the law already presumes someone else is? Although this question did not arise in the context of probate litigation, it nevertheless touches on paternity issues that may affect inheritance rights in future cases.
The underlying facts of this case are simple. The petitioner, Mr. Perkins, claims to be the father of a daughter born to the respondent, Ms. Simmonds. Perkins and Simmonds were in a relationship for several years prior to the child's birth. However, Simmonds was also married to another man, Mr. Ferguson. Perkins said he did not know about the marriage prior to the child's birth.
Despite the marriage, Ferguson did not initially claim his wife's child as his own. The child's birth certificate used Perkins' last name, and Ferguson was not identified as the father. Perkins was also present at the birth and provided financial and emotional support for the daughter afterwards.
Eventually, Perkins asked a Florida judge to declare him the child's legal father. Simmonds and Ferguson objected. She cited Florida common law, which provides that a child born to a married couple is presumed to be the child of that couple. The judge ruled in favor of Simmonds, noting that despite the evidence pointing to Perkins as the biological father, existing case law required the court to hold that Perkins had "no right to establish paternity of a child who was born into an intact marriage" over the couple's objections.
The Florida Fourth District Court of Appeal later reversed this decision. It held "the presumption of legitimacy afforded to a child born within an intact marriage is exactly that: a presumption." In rare cases, such as this one, a biological father could overcome the presumption and establish his own paternity.
The Florida Supreme Court agreed to review the Fourth District's ruling, primarily because other district courts previously adopted a stricter interpretation of the legitimacy rule–i.e., that it serves as an "absolute bar" to a biological father's paternity claim. The Supreme Court ultimately decided the Fourth District was correct. The justices unanimously agreed that "the presumption of legitimacy is rebuttable by a biological father in the circumstances of Perkins and does not bar an action to prove paternity at the outset."
Need Florida Estate Planning Help?
Determining paternity is often crucial to establishing a child's inheritance rights under Florida law. If you have questions or concerns regarding the legal status of your own parent or child and would like to speak with a qualified Fort Myers estate planning attorney, contact the Kuhn Law Firm, P.A., at 239-333-4529 today.
Resource:
floridasupremecourt.org/decisions/2018/sc17-1963.pdf