Do I Need a Will Even If I Don't Have Much Property?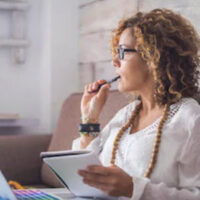 A common reason we hear people give for not having a will is, "I don't own enough property," or "My estate would be too small to worry about anyways." The truth is that everyone benefits from having an estate plan. Even relatively small estates need to be dealt with under the law, and things will go a lot smoother for everyone involved if the deceased has left appropriate instructions.
Now, it is true that small estates can often bypass the formal probate process in Florida. An estate may be eligible for either "summary administration" or "disposition without administration. Below is a brief explanation of these procedures and how they work.
Summary Administration
As the name suggests, summary administration is a shorter form of the normal probate process. Summary administration is generally available when the total value of a decedent's (deceased person's) estate is less than $75,000, or the decedent has been dead more than two years, and the will itself does not require formal probate.
The main difference between regular and summary administration is that with the latter, the probate court does not need to appoint a personal representative. Instead, the judge simply orders a distribution of the estate's property to the beneficiaries named in the will. Any potential creditors of the estate must also be notified and get paid.
Disposition without Administration
For even smaller estates, there is a process known as "disposition without administration." This procedure is available when the estate only consists of personal property–i.e., there is no real estate subject to probate–and the debts are limited to funeral costs and medical expenses incurred during the last 60 days of the decedent's life. These debts cannot exceed the total value of the decedent's personal property.
If the estate meets these requirements, an interested party can seek disposition without administration by filling out a simple petition form with the probate court. A judge can then issue an order transferring the personal property to the decedent's heirs and reimbursing anyone who paid the funeral and final medical expenses. No formal or summary administration is necessary.
Why You Still Need a Will
Even if you expect your estate will qualify for either summary administration or disposition without administration, you still need to have a will. After all, even if you only leave a small amount of property, you still want to make sure it goes to the person you choose. Without a will, any property you leave behind is distributed according to Florida's intestacy law.
Also keep in mind, even if you do not own much property now, things can change over time. As your fortunes improve and you do acquire more property, it is a good idea to review your existing estate plan and make appropriate adjustments. If you need advice from an experienced Fort Myers estate planning attorney, contact the Kuhn Law Firm, P.A., at 239-333-4529 to schedule a free confidential consultation.
https://www.kuhnlegal.com/td-wealth-report-highlights-estate-planning-issues-following-gray-divorce/