Can You Challenge the Administration of a Florida Trust Even If You Are Not a Beneficiary?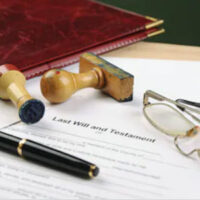 When property is placed into a trust, the trustee is responsible for administering that property as directed by the original trust document. If the trustee does not live up to their responsibilities, the beneficiaries of the trust may file a civil lawsuit against the trustee. But what about individuals who might stand to benefit if the trust itself is invalid? Can they also file a lawsuit for "breach of trust"?
Children Allowed to Sue Trustee of Father's Trust Due as "Interested Persons"
The Florida Fifth District Court of Appeals addressed these questions in a recent decision, Cruz v. Community Bank & Trust of Florida. The plaintiffs in this case are two siblings who wish to contest their late father's trust. The father created both the trust and an accompanying will shortly before he passed away in 2016. Essentially, the will left most of the father's probate assets to the trust, and the successor trustee (a bank) was directed to distribute most of the trust's assets to two charitable organizations.
In their lawsuit, the children alleged their father lacked the legal capacity to execute his trust when he did. After this lawsuit was filed, the trustee provided the children of an accounting of the trust's finances to-date. This prompted the children to file a second lawsuit, accusing the trustee of "mismanagement." In response, the trustee moved to dismiss this new lawsuit, arguing the children lacked "standing" to bring a breach of trust lawsuit.
As the trustee saw things, the children were not beneficiaries of the trust. If their contest was successful and the trust invalidated, they would stand to inherit the property currently in the trust through Florida intestacy law. But the trustee argued this only gave the children a "hypothetical interest" in the trust "based on uncertain future events." This was not sufficient, in the bank's opinion, to give the children legal standing.
A trial judge agreed and granted the trustee's motion to dismiss the breach of trust claim. The Fifth District reinstated the lawsuit, however, finding the trial court defined standing too narrowly. The appeals court noted that Florida law allows any "interested person" to bring a legal claim related to the "administration of a trust." In this context, an interested person includes "any person who may reasonably be expected to be affected by the outcome" of the claim. Put another way, the Fifth District said an interested person is someone who has "some cognizable interest in the underlying trust property."
Here, the siblings' "potential inheritance" should the trust be found invalid was "an interest that will be affected by the [trustee's] management of the Trust." They therefore had legal standing to bring a breach of trust claim.
Speak with a Florida Trust Lawyer Today
Whether you are looking to contest or defend a trust, it is critical to work with an experienced Fort Myers estate & probate administration attorney who understands this area of law. Contact the Kuhn Law Firm, P.A., at 239-333-4529 today to speak with a lawyer about your trust-related legal situation
Source:
5dca.org/content/download/534686/5938446/file/183310_1260_08092019_08431243_i.pdf
https://www.kuhnlegal.com/what-does-a-personal-representative-do/