Can Sending a Text Message Create a Valid Will?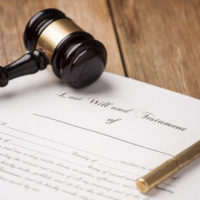 Modern technology emphasizes convenience. Using our phones, we can do just about everything: order food, listen to music, read and revise business documents, et cetera. But some things still need to be done in writing–that is, on paper and not an iPad. This includes making your last will and testament.
While it is certainly okay to use technology to help draft a will or organize your estate planning thoughts, the actual document must still be printed and signed by you in the presence of at least two witnesses. These rules may seem outdated but they serve a vital function–to prove that your will is actually yours. While the law in this area will no doubt continue to evolve, at least as things stand today, you cannot create a valid last will and testament in Florida by sending a series of Tweets or writing on a Facebook wall.
France, Australia Differ on Approached to Texting Wills
Two recent international cases illustrate the ongoing struggle to reconcile probate with tech. The first, more recent case, occurred in France. On August 17, 2018, the BBC reported that a civil court in the city of Metz, France, held that a "French person cannot change his or her last will and testament by text message." The case apparently involved a man who committed suicide in the midst of a heated divorce. Sometime before his death, the man sent a text message to his sister, indicating he wanted his mother to a get share of his estate "rather than his wife." The family's attorney ignored the message, stating it "had no legal value." The court agreed with the attorney, noting that under French law, "a will can only be valid if it has been written by hand, dated and signed."
But as a counterpoint, consider this October 2017 story from Australia. A trial court in the Australian state of Queensland held that an "unsent, draft text message"–which was also composed by a man who committed suicide–could be admitted as a valid will. In this case, the judge cited the fact the decedent expressly identified the draft text as "My Will." Queensland also permits "less formal types of documents to be accepted as wills" under a 2006 law, according to the Australian Broadcasting Corporation. However, a lawyer interviewed by the ABC emphasized that "writing a will in a text message was 'absolutely not' recommended."
Need Help Making a Florida Will?
Again, it's important to note that a purported will contained in a text message would almost certainly be rejected by the Florida courts. Even if such things were allowed, as was the case in Australia, it would still be a terrible idea. A will is not something you should casually dash off like an Instagram post of your dinner. It is a legally binding document that carries serious consequences for your family and your property. An experienced Fort Myers estate planning attorney can assist you in drafting a proper will. Call the Kuhn Law Firm, P.A., at 239-333-4529, or contact us online today to schedule a free confidential consultation with a member of our legal team.
Sources:
bbc.com/news/world-europe-45228513
abc.net.au/news/2017-10-09/unsent-text-on-mobile-counts-as-a-will,-queensland-court-finds/9031470